Indigo Monomiya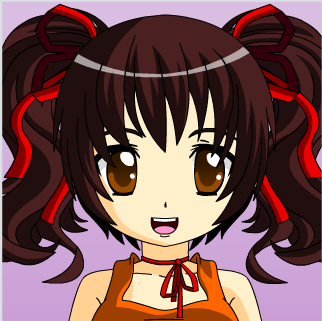 Character Info
| | |
| --- | --- |
| Nicknames | Indie, Monomiya (Called by Raphael) |
| Age | 15-16 |
| Species | Human |
| Gender | Female |
| Nationality | Japanese |
| Height | 5' 5" |
| Body Type | Average |
| Hobbies/Interests | Shopping, talking to friends, finding new ways to "get back at" Raphael |
| Status | {{{Status}}} |
| Canon Original Story? | {{{Canon Original Story?}}} |
Indigo Monomiya is an excitable girl. She is often seen eating something. She also gets distracted by anything cute or cuddly. She also cares a lot about her friends. Indigo is often quite hyper as well. Indigo is a clumsy klutz, and often makes mistakes.
Other Appearances
Trivia
Indigo's personality and even her name are based off the Tokyo Mew Mew character Ichigo Momomiya.
Indigo doesn't actually mention why she hates Raphael. It could be because of his sarcastic and rude personality, but it has never been proved.
Indigo is terrified of ghosts. She even once screamed at a ghost costume.